Salkantay Trek Luxury Tour to Machu Picchu is the perfect way to explore one of the world's most incredible hiking trails. On a Luxury trek to Machu Picchu, you'll enjoy the hike with Luxurious accommodations, Private Guides, massage therapists, drinks, hot showers, private transportation, and luxury camping equipment. You'll have plenty of time to explore Machu Picchu at your own pace, and you'll also have the opportunity to visit other nearby Inca sites, such as Llaqtapata.
Immerse yourself in the Andean culture, learn about the Incas, and discover Salkantay's hidden gems. Visit Humantay Lake and Salkantay Mountain, hike in the cloud forest, visit Coffee farms, prepare a Pachamanca Barbecue, Camp at Llaqtapata in front of Machu Picchu, and arrive early for the sunrise at Machu Picchu.
The Salkantay Luxury Trek to Machu Picchu for 5 days and 4 nights will take you to explore the hidden lakes of Humantay, the snow-capped mountains of Salkantay, the lush tropical valleys of the Santa Teresa region, and arrive at Machu Picchu early in the morning.
Enjoy our pachamanca hot stone barbecue, visit organic coffee farms, and camp in a mountain front of Machu Picchu on the third day of this expedition.
Our Salkantay trek includes luxury camping equipment, massage therapists, shaman ceremonies, local professional guides, expert trekking chefs, and local porters to create an unforgettable experience.
Trip details:
Duration: 5 Days / 4 nights
Depart: Cusco
Difficulty: Moderate to Challenging
Season: April to December
Destination: Machu Picchu
Hiking Distance: 64 km – 39 miles
Type: Adventure – Luxury Glamping
Highlights
Prepare a Pachamanca underground barbecue
Luxurious Glamping equipment (Walk-in tents, Queen & Twin size cots)
Massages therapist during 3 nights of camping
4-star hotel in Aguas Calientes Town
Vistadome Exclusive Panoramic to return
---
Day by day summary of the Salkantay Trek Luxury Tour
Day 1: Visit Humantay Lake
Hiking hours: 7 hours
Visit: Humantay Lake
Meals: Breakfast, Snacks, Lunch, Tea Time, Dinner
Accommodation: Camping in Luxury tents
Day 2: Conquer Salkantay Mountain.
Hiking hours: 8 hours
Visit: Salkantay pass at 4630m/15190ft
Meals: Breakfast, Snacks, Lunch, Tea Time, Dinner
Accommodation: Camping in Luxury tents
Day 3: Hiking in the Cloud Forest.
Hiking hours: 7 hours
Visit: Coffee farms, prepare Pachamanca
Meals: Breakfast, Snacks, Lunch, Tea Time, Dinner
Accommodation: Camping at Llaqtapata in front of Machu Picchu.
Day 4: Hike around Machu Picchu.
Hiking hours: 6 hours
Visit: Hidroelectrica Sundial, Mandor Gardens
Meals: Breakfast, Snacks, Lunch, Dinner
Accommodation: 4-star hotel In Aguas Calientes (Machu Picchu Pueblo).
Day 5: Visit Machu Picchu!
Guided Tour: 3-4 hours
Visit: Machu Picchu, Sungate
Meals: Breakfast in the hotel, lunch at Machu Picchu
Vistadome Train back to Cusco
---
Included
Pre-departure briefing in your hotel
Pick up and drop off from your hotel
Entrance ticket to Salkantay, Machu Picchu.
Three nights camping with luxury equipment
1-night 4-star hotel in Aguas Calientes ( El Mapi or similar)
Peruvian gourmet meals with fresh local products
Massage Sessions during the 3-nights of camping
Hot Showers and portable private toilets
Top-qualified tour guides
Highly trained chefs prepare fresh meals
Porters to carry equipment and food
Personal Porter for up to 15 kilos of your staff
Oxygen tank, Satellite phones, First Aid Kit
Bus up and down to Machu Picchu
Lunch in Machu Picchu Hotel
Vistadome Panoramic Train back to Cusco
---
Not Included:
Flights to Cusco
Personal expenses
Last day dinner in Cusco
Travel Insurance
---
Know before booking:
---
Covid-19 measures to keep you safe during traveling
Covid tests and vaccination cards are not required anymore
Face masks are optional.
Hand sanitizer is available to travelers and staff at all times
100% online payments with no booking fees at all
Flexible bookings during COVID – 19 outbreak
Full Itinerary of Salkantay Trek Luxury Tour to Machu Picchu
Day 1: Cusco – Humantay Lake – Basecamp
On the first day, the pick-up will be at 4:30 am from your hotel in Cusco and drive for 3.5 hours to Challacancha, where you will enjoy a delicious breakfast prepared by your trekking chef. After breakfast, you will start a gentle hike for 3 hours to Soraypampa at 3800m/12467ft, where your trekking chef will be waiting with a delicious lunch prepared with fresh local products.
After lunch, you will hike for around 2 hours to Humantay lake, where you will be able to explore the surroundings of the beautiful turquoise water lake. The second part of the day starts with a 1-hour hike to the basecamp right below the Salkantay mountain at 3900m/12795ft. Upon arrival at the campsite, you will have your comfortable tents all set up; you will only need to sit down, grab a drink, and enjoy the beautiful views of the Andes.
Meals: Breakfast, snacks, lunch, tea time, dinner
Accommodations: Luxury camping with hot showers and massage
Drinks available: Wine, beer, sodas
Hiking hours: 6 hours
Hiking distance: 12 km / 7.4 miles
Day 2: Basecamp – Salkantay Pass – Collpapampa
Wake up in your tent with a beautiful view of the mountains, enjoy a hot cup of coffee or coca tea, and get ready for the most challenging day of the Salkantay Tour. After breakfast, You will start a steep ascent to the tour's highest point; the Salkantay pass at 4630/15190ft. Upon arrival at the pass, you will take some time to relax and enjoy the views of snowcapped peaks while your Andean Chaman performs a traditional offering to Pachamama (Mother Earth). Lunch Will be served at Wayrajmachay village, 2 hours from the pass.
The second part of the day will be a 3-hour descent to the second campsite in Collpapampa village located in the cloud forest at 2800m/9186ft. We will be camping with our luxury equipment near the town; the weather is warm, and a great place to enjoy the Inca Massage, hot showers, and have dinner before sleep.
Meals: Breakfast, Snacks, Lunch, tea time, dinner
Accommodation: Luxury camping with hot showers and massage
Drinks available: Wine, Champagne, beer, sodas
Hiking hours: 9 hours
Hiking distance: 18 km / 11.1 miles
Day 3: Collpapampa – Llucmabamba – Llaqtapata
After breakfast in the village, you will start hiking for 3 hours through the Cloud Forest with lush green vegetation, bridges, waterfalls, granadilla plantations, and banana plantations until Lucmabamba Village, where lunch will be served.
Lunch is a special Pachamanca hot stone barbecue; you will participate in preparing this Andean delicacy. After lunch, you will visit an organic coffee farm to prepare your cup of coffee and learn the harvesting process. Then, you will hike for 3-hours along an ancient Inca Trail to the Llaqtapata Inca site. Here you will first glimpse the Lost Inca Citadel of Machu Picchu. Spend the night in a rustic lodge right in front of Machu Picchu.
Meals Included: Breakfast, Snacks, Lunch, Teatime, Dinner
Accommodation: Rustic Lodge in front of Machu Picchu.
Hiking hours: 6 hours
Hiking distance: 16 km / 9.9 miles
Day 4: Llaqtapata – Aguas Calientes
Llaqtapata is located on a mountain right in front of Machu Picchu; if the weather allows, you will experience the most amazing sunset and sunrise over Machu Picchu. After enjoying the last breakfast with the trekking team, start the final 5 hours of hike to Aguas Calientes town (Machu Picchu Pueblo). You will also visit the Sundial at Hidroelectrica, the Mandor Botanical Gardens, and hike around Machu Picchu Mountain.
Mandor is a special place full of history since Hiram Bingham III visited this place in 1911 before discovering the great citadel of Machu Picchu. You will spend the night at a 4-star hotel in Aguas Calientes town.
Meals Included: Breakfast, Snacks, Lunch, Dinner
Accommodation: El Mapi or Similar
Hiking hours: 5 hours
Hiking distance: 14 km / 8.6 miles
Day 5: Machupicchu (Lost City Of The Incas)
After breakfast in your hotel, you will take the early buses up to Machu Picchu to watch the beautiful sunrise. The guided tour of Machu Picchu citadel takes around 3 to 4 hours.
Your tour guide will visit the most important places of Machu Picchu, such as temples, palaces, and terraces, and you will have free time for further exploration or a hike up to Huayna Picchu mountain or Montaña Machu Picchu. After finishing the Machu Picchu Tour, you will have lunch at Machu Picchu Sanctuary Lodge. Later in the afternoon, board the Exclusive Vistadome trains back to Cusco.
Meals Included: Breakfast in the hotel, Lunch at Machu Picchu.
Accommodation: Not Included
Vistadome panoramic train back to Cusco
Price for the Luxury Salkantay Trek to Machu Picchu

Price Per Person:
To book the Salkantay Trek Luxury Tour, you must make an initial payment of 400.USD per person, the remaining balance can be paid online, in installments, or Cusco with any credit card at no booking fees at all.
| | |
| --- | --- |
| Number of Trekkers | Price per person |
| 1 | 3200.USD |
| 2 | 2600.USD |
| 3 | 2400.USD |
| 4 | 2200.USD |
| 5 | 2000.USD |
| 6 | 1850.USD |
| 7 | 1750.USD |
| 8+ | 1690.USD |
Student Discount:
All travelers under 17 will have a $40 discount.
If you are 25 years old or under when traveling, you can get a 40$ discount with your student ID. Please advise by email to give you a code for the discount.
Valid Student ID for IncaTrail and Machu Picchu
To get the student discount, travelers should have a Valid ID with the following:
25 years or less at the time of entering Machu Picchu. Older than 25 can not enter as a student
The ID must have the Name of the university, name, and photo of the student
The ID must have a valid expiration date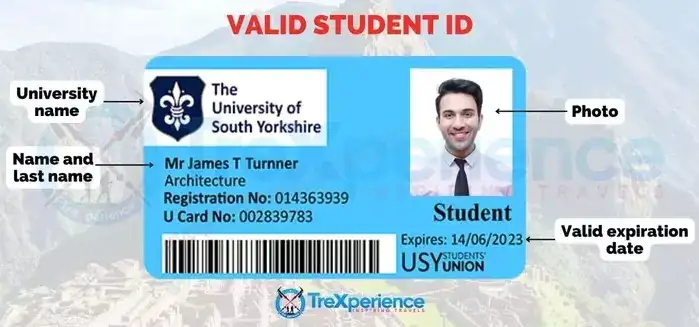 Invalid Student IDs
Student IDs are not eligible for a discount when:
Traveler is older than 25
Expired ID
Student Id without expiration date
ISIC cards are not valid.

---
Similar Tours you might be interested
Packing List for the Salkantay Trek Luxury Tour to Machu Picchu
During the Salkantay Trek Luxury Service, you will have a private porter who will carry all your belongings for a 5-day trek; the weight limit is 20 kg (44 lbs). TreXperience will provide you with a duffel bag to put all your gear for the Salkantay Tour.
In addition to the duffel bag provided by TreXperience, you also need to carry a small backpack; you are responsible for carrying this backpack during the day.
What to carry on your daypack?
Your backpack must always be carried with you, and it needs to be light and comfortable. According to the regulations of Machu Picchu, it should not exceed 25 liters.
Original Passport:
The original passport is required to enter the Salkantay and Machu Picchu. The passport number must be the same as the number provided at the time of booking; if you have changed or updated your passport, you must send us two passport photos or travel with both.
Hat and sunglasses:
Polyester fiber, breathable, and quick-drying sun hats are better with an adjustable chin strap and long neck sleeve. This will effectively protect the neck from sunburn.
Rain Gear, Rain Ponchos:
You should bring a waterproof and windproof jacket and pants. The weather in the Salkantay and Machu Picchu is really unpredictable. TreXperience will provide you with a plastic poncho.
Warm clothes:
You need to bring warm clothes for the cold nights; a fleece jacket, windbreaker, beanie, gloves, and base layer. Temperatures on the first night could reach below freezing.
Sunscreen, bug spray:
For the Salkantay Trek Luxury tour, you must bring waterproof sunscreen and insect repellent, especially when hiking near Machu Picchu, where the weather is humid, warm, and humid.
Hand sanitizer, toilet paper, wet wipes:
Always carry hand sanitizer and toilet paper with you. In addition, facial moisturizers, band-aids, moleskins, and personal medication.
Toothbrush and paste:
Place your stuff in a Ziploc bag; remember that it must be light and small because you will be carrying this bag.
Camera, extra batteries:
We have no electricity in the campsites; you must take with you a good power bank or spare batteries.
Flashlight or Headlamp:
We recommend using high-quality headlights to walk around in the dark.
Camel bags or water container for at least 2 liters:
You must have a bladder or water container for 2 liters; bigger than this might be too heavy. Remember that disposable plastic bottles are not allowed in Machu Picchu.
Additional snacks, power bars, and chocolate:
During the luxury trek of Machu Picchu, we provide snacks every day. However, we also recommend you have some snacks in your backpack.
Extra Money in small denominations (Soles)
The luxurious Salkantay Tre tour is all-inclusive, except for the last dinner when returning to Cusco or a tip to the trekking staff.
---
What to put in the duffle bag:
TreXperience provides personal porters for your stuff; you will hike with a lightweight backpack to enjoy more of the Salkantay Trail (you can take a maximum of 20 kg); you can only get your duffel bags at lunch places or campsites.
Blankets, linens, pillows:
TreXperience provides air beds, inflatable mattresses, sheets, pillows, and hot water bottles for the coldest nights.
Walking shoes, sandals, or snickers:
Hiking boots are essential for the Salkantay Trek. They need to be rubber soles, waterproof, and ankle covering, and try to use them before coming to Peru; new boots will make you blisters.
After hiking, it would be perfect to wear ordinary shoes or sandals at the campsite.
6-7 T-shirts:
We recommend 5 short sleeve shirts and 3 or 4 x long sleeve shirts. They must be breathable, lightweight, and quick-drying.
3-4 pants for hiking:
Bring 3 or 4 pairs of hiking pants; you can also bring hiking shorts or convertible pants.
6 sets of undergarments.
Bring 6 sets or more of sports underwear; considering that it may be raining on some days, you may use multiple sets a day if it gets wet during the day.
8 sets of hiking socks:
Bring 5 sets of thick wool hiking shoes to wear with hiking boots and some light socks at the campsite.
Quick-dry towel:
TreXperience will provide you with bathrobes and small towels for the campsite; you can take comfortable showers at the campsite; if necessary, please bring a small quick-drying towel.
Soap:
Soap is provided during the tour; you can also bring your own soap and shampoo.
Plastic bag.
All the clothes in the duffel bag are placed in plastic or waterproof containers. In addition, have a small plastic bag with you always to collect garbage every day.
Luxury Salkantay Trek To Machu Picchu FAQs
What is the difference between the Luxury Salkantay Trek and the Regular Salkantay Tour?
All Salkantay tours follow only one route; the regular tour and the Luxury Salkantay Trek will use the same campsites, but the equipment, food, and services will be upgraded to a luxury version.
The Luxury Salkantay Trek to Machu Picchu will allow you to stay in exclusive campsites, away from the crowds, to get closer to nature. You will be camping with luxurious equipment, gourmet food with drinks, and cocktails.
What is the equipment provided in the Luxury Salkantay Trek?
During the Salkantay Luxury Tour, you will have the following equipment:
4-person tent for single travel and 6-person tent for 2 persons
Air bed with an inflatable mattress
Extra blankets, pillows, sheets.
Portable shower with hot water every night
Portable toilets are provided in every campsite and lunch place.
Luxury dining tents, tables, chairs
We will carry all equipment during the 5-day trip on the Salkantay, including tents, air beds, blankets, portable showers, and portable toilets.
How challenging is the Salkantay Trek?
Salkantay Trek is one of the most famous hikes in the world. In addition, it is also one of the most challenging hikes in Machu Picchu. Hikers must be in a medium physical condition. All hikers must prepare or train before hiking at high altitudes.
What is the highest point on the Salkantay Tour?
The trek's highest point is the Salkantay pass at 4630/15190ft, and you will conquer this pass on the second day.
How many miles is the Luxury Salkantay Trek?
The Salkantay Trek Luxury Tour 5 days 4 nights starts at Soraypampa Villages and ends in Machu Picchu. The total hiking distance is 64 km – 39 miles.