Sacred Valley to Machu Picchu 2 days is a popular tour package that takes visitors to some of Peru's most impressive and historic sites. The tour starts in Cusco, the former capital of the Inca Empire, and includes visits to sites in the Sacred Valley of the Incas before culminating with a visit to the iconic Machu Picchu.
Sacred Valley to Machu Picchu Overview
Sacred Valley to Machu Picchu is a popular tourist destination in Peru that offers a glimpse into the rich history and culture of the Inca civilization. The Sacred Valley, also known as the Urubamba Valley, is located in the Andean highlands near Cusco and is home to many important Inca ruins and traditional Andean villages. Machu Picchu, one of the Seven Wonders of the World, is located in the same region and is considered the most famous Inca site in the world.
Visitors to the Sacred Valley can explore the Awanacancha Alpaca farm, Mirador Taray, the Inca site of Pisac, the local market of Pisac, and Ollantaytambo showcasing the Inca civilization's impressive engineering skills. The Pisac ruins feature an impressive complex of agricultural terraces, while Ollantaytambo is known for its impressive fortress and temple complex.
You will travel by train from the Sacred Valley to Aguas Calientes, the town located at the base of Machu Picchu. Visitors can explore Machu Picchu with a professional guide, hike up to Huayna Picchu for panoramic views of the surrounding mountains and valleys, and take in the beauty and mystery of this iconic Inca site.
Tour details:
Duration: 2 days / 1 night
Depart in: Cusco
Season: All year round
Destination: Sacred Valley, Machu Picchu
Type: Cultural, adventure, hotel
Highlights:
Explore the best places in the Sacred Valley
Arrive before sunrise at Machu Picchu.
Enjoy the view from the panoramic trains
Sacred Valley and Machu Picchu Tour at a Glance!
A 2-day tour of the Sacred Valley and Machu Picchu tour is a great way to experience some of the most iconic and historic sites in Peru.
Day 1: Sacred Valley
Pick-up from your hotel in Cusco at 8:00 am
Visit Awanacancha and Mirador Taray
Explore the Pisac Inca site and the Local handicraft market
Enjoy a buffet lunch in a local restaurant in Urubamba
Visit the town of Ollantaytambo fortress
Explore the narrow streets of Ollantaytambo
Take the train from Ollantaytambo to Aguas Calientes
Spend the night in a 3-star hotel
Day 2: Explore Machu Picchu
Enjoy breakfast at the hotel and board the bus up to Machu Picchu
Arrive in Machu Picchu before the sunrise
Guided tour of Machu Picchu for around 2 to 3 hours
Free time in Machu Picchu to explore or take optional hikes
Return to Aguas Calientes for lunch and some free time to explore the town
Vistadome Panoramic train back to Ollantaytambo
Private van back to Cusco, expected arrival time is 7:30 pm.
This itinerary can be customized to your interests and schedule, and there are many other sites in the Sacred Valley that you could include in your tour, such as Moray and Salineras of Maras.
Included
Pick up from your hotel in Cusco
All transportation included from hotel to hotel.
Entrance fee to all places in the Sacred Valley
Entrance fee to Machu Picchu
1 night in a 3-start hotel in Aguas Calientes (Intipunku or similar)
Round trip bus to Machu Picchu
Professional guide for 2 days
Buffet lunch on day 1
Dinner in a local restaurant on day 1
Expedition train to Aguas Calientes
Vistadome Panoramic train to return
Drop off back to your hotel
All taxes and booking fees
Not Included
Meals not mentioned
Huayna Picchu tickets
Montaña tickets
Travel Insurance
Optional hikes after the Guided tour in Machu Picchu
Sacred Valley to Machu Picchu Tour Full Itinerary
Day 1: Cusco – Sacred Valley – Machu Picchu Pueblo
We will pick you up from your hotel in Cusco in any location at 8.00 am and drive for 40 minutes with your exclusive transportation and tour guide to Awanacancha Alpaca center, Where you will see Llamas, Alpacas, Vicuñas, and guanacos. A popular stop on many Sacred Valley tours, visitors can see these amazing animals up close and learn about their importance to Andean culture. The textile center is also great for learning about traditional weaving techniques and seeing how local artisans create beautiful textiles using natural dyes. And, of course, the opportunity to shop for unique souvenirs is always a bonus.
Next, you will drive for 20 minutes to Lookout Point of Taray; from this spot, you can enjoy panoramic views of the valley and the surrounding mountains, which are truly breathtaking. It's a great place to stop and take photos of the stunning landscape and appreciate the region's natural beauty.
You will continue driving to the Archaeological site of Pisac, located on a hillside overlooking the valley, and it's made up of a series of terraces, temples, and residential areas. Your tour guide will take you on a walking tour of the site, explaining the history and significance of each structure. You will have the opportunity to explore the site on your own, take photos, and admire the stunning views of the valley. The Pisac ruins are a must-see attraction in the Sacred Valley, and they provide an incredible glimpse into the fascinating history and culture of the Incas.
After enjoying the amazing views, you will drive to visit the Local Market of Pisac, where you can find a wide variety of traditional handicrafts, textiles, and souvenirs made by local artisans. This market is located in the town of Pisac and is open every day, but it's most lively on Sundays when locals from surrounding villages come to sell their wares. Here you can shop for unique souvenirs such as alpaca wool blankets, traditional textiles, ceramics, jewelry, and more. The market is a great opportunity to experience the local culture and interact with the friendly people of the Sacred Valley. You will have some free time to browse the market and shop before continuing on to the next destination.
Lunch is served at Urubamba (1-hour drive from Pisac). The restaurant will serve a buffet style with a variety of dishes made with local ingredients such as quinoa, corn, and potatoes, as well as meat and fish dishes. Vegetarian options are available as well.
After lunch, you will travel to Ollantaytambo; you will have the opportunity to explore the narrow cobblestone streets, visit the main plaza, and see the impressive Inca site that towers over the town. Your tour guide will provide you with historical and cultural insights into the town and its importance to the Inca Empire.
After exploring the town, you will have dinner in a local restaurant and board the Expeditions train to Aguas Calientes (Machu Picchu Pueblo), which is the town located at the base of Machu Picchu. You will spend the night in a 3-star hotel.
Entrance fees: Included
Transportation: Private van and train
Tour Guide: Professional Guide
Meals: Lunch and Dinner
Hotel: 3-star hotel in Aguas Calientes
Day 2: Explore Machu Picchu – Cusco
Wake up early in your hotel, have breakfast, and you'll take the first buses up to Machu Picchu. Upon arrival, you must show an original passport to enter the citadel at the checkpoint. You will explore the best of Machu Picchu in a guided tour for about 3 hours, visiting the most remarkable terraces, storehouses, temples, and palaces, and giving some free time to explore by yourself or take the extra hikes to Huayna Picchu or Machu Picchu Mountain (Montaña). These additional hikes are optional and not included in the tour.
After exploring Machu Picchu, you'll take the bus down to Aguas Calientes, have lunch (not included), and take the Vistadome Panoramic train. Back to Ollantaytambo and then our modern van back to Cusco. The arrival time is around 7.30 pm, back to your hotel.
Entrance fees: Included
Transportation: Panoramic train and Private van
Tour Guide: Professional Guide
Meals: Not Included (Breakfast at hotel)
Hotel: Not Included (you must book a hotel in Cusco)
Sacred Valley and Machu Picchu tour packing list
During the 2 day Sacred Valley and Machu Picchu tour, you will be traveling from Cusco into the Sacred Valley by bus and then by Train to Aguas Calientes. It is important to mention that you can only take a small carry-on bag on the train with you. You are not allowed to take big luggage.
You will also be participating in short hikes during the day when visiting the Inca sites and local markets. You need to have a small daypack where you will put daily essentials like rain gear, money, documents, water, and warm clothes. This daypack must be light and comfortable.
During the Sacred Valley tour, your carry-on stays in the van, and you will visit the Inca sites with your daypack.
During the tour in Machu Picchu, you will need to store your carry-on luggage in the hotel after checkout and visit Machu Picchu only with a day pack.
Essentials for the tour:
Original passport
Small daypack
Comfortable shoes for walking
Warm clothes
Clothe for 2 days
Toiletries
Water bottle
Extra money
Camera
Snacks
Clothing:
Lightweight, quick-drying pants or shorts
Breathable, moisture-wicking shirts (long and short-sleeved)
A fleece or lightweight jacket for cooler temperatures
Waterproof rain jacket or poncho
Comfortable walking shoes, sandals
Socks (preferably moisture-wicking)
Undergarments
Hat or cap for sun protection
Sunglasses
Swimsuit (if you plan to visit the hot springs in Aguas Calientes)
Toiletries:
Toothbrush and toothpaste
Shampoo and soap (biodegradable if possible)
Deodorant
Sunscreen (at least SPF 30)
Insect repellent
Sacred Valley to Machu Picchu tour price
Price per person:
520.USD per person for adults
480.USD per person for children & students
650.USD per person for a private tour
4+ Travelers, contact us to get a special quotation.
To book the Sacred Valley to Machu Picchu Tour, you need to make an initial payment of 200.USD per person, the remaining balance can be paid online, in installments, or Cusco with any credit card at no booking fees at all.
Student Discount:
All travelers under 17 will have a $40 discount.
If you are 25 years old or under when traveling, you can get a 40$ discount with your student ID. Please advise by email to give you a code for the discount.
Valid Student ID
To get the student discount, travelers should have a Valid ID with the following:
25 years or less at the time of entering Machu Picchu. Older than 25 can not enter as a student
The ID must have the Name of the university, name, and photo of the student
The ID must have a valid expiration date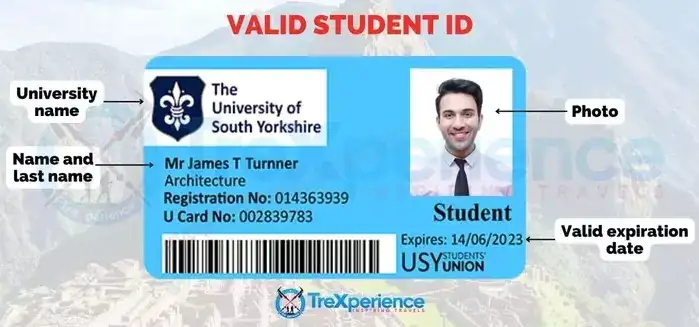 ​
​​
​
​​​
Invalid Student IDs
Student IDs are not eligible for a discount when:
Traveler is older than 25
Expired ID
Student Id without expiration date
ISIC cards are not valid.

​
​​
​
​​​
---
Similar tours you might be interested in:
Places we visit during the Sacred Valley and Machu Picchu tour
Awanakancha (Lama and Alpaca farm):
Awanakancha is a living museum, llama, and alpaca farm located in the Sacred Valley of the Incas, near Cusco, in southern Peru. The name "Awanakancha" means "The Palace of the Weaver" in the native Quechua language. This unique attraction showcases the traditional Andean art of textile weaving and dyeing and the native camelid species found in the Andean region: llamas, alpacas, guanacos, and vicuñas.
A visit to Awanakancha allows you to learn about the different camelid species, their history, and their important role in the Andean culture for thousands of years. These animals are not only essential for their wool, which is used to make textiles, but they have also been important sources of food, transportation, and even religious symbolism in the Andean communities.
Mirador Taray:
Mirador Taray is a scenic viewpoint located along the road between Pisac and Cusco. The viewpoint offers stunning panoramic views of the surrounding Andean mountains and the lush Urubamba Valley. It is a popular spot for tourists and photographers to stop and take in the breathtaking landscape.
From Mirador Taray, you can appreciate the agricultural terraces that cover the slopes of the valley, demonstrating the Inca civilization's an advanced engineering and agricultural techniques. Additionally, the viewpoint provides a great vantage point for observing the winding Urubamba River, which played a crucial role in the development of the Inca Empire.
Pisac Inca Site:
Pisac is situated about 33 kilometers (20 miles) northeast of Cusco, the ancient capital of the Inca Empire, at an elevation of around 3300 meters (10826 feet) above sea level.
The Pisac Inca site is well-known for its agricultural terraces carved into the mountainsides in a series of concentric circles. These terraces were used for farming and irrigation, demonstrating the Inca's advanced agricultural techniques and engineering skills. The terraces also served to prevent erosion and landslides in the mountainous region.
In addition to the agricultural terraces, Pisac features various religious and ceremonial structures, including temples, baths, and altars. The Intihuatana, a carved stone pillar believed to function as an astronomical observatory and calendar, is one of the most notable structures in the complex. The Intihuatana is similar to the famous one found in Machu Picchu.
Pisac Market:
Pisac local market is a vibrant and colorful market located in the town of Pisac. This market is known for its traditional Andean crafts, textiles, clothing, pottery, jewelry, and a variety of local products. It is a popular destination for both tourists and locals, offering a glimpse into the region's rich cultural heritage and an opportunity to purchase unique, handmade items.
The market operates every day, with Sunday being the most popular and busiest day. On Sundays, the market expands to include a wider array of products, and local farmers from the surrounding villages come to sell their fresh produce, such as fruits, vegetables, and spices. This makes the Sunday market an even more authentic and lively experience.
At the Pisac local market, you can find a range of traditional Andean textiles, such as alpaca and llama wool garments, blankets, and tapestries, all showcasing intricate patterns and vibrant colors. Handmade jewelry, including silver and semi-precious stones, is another popular item to shop for.
Ollantaytambo (Last living Inca Citadel):
Ollantaytambo is a town and archaeological site located in southern Peru's Sacred Valley of the Incas. It is situated at an altitude of approximately 2,792 meters (9,160 feet) above sea level and about 60 kilometers (37 miles) northwest of the city of Cusco. The town is often referred to as the "last living Inca citadel" because it has been continuously inhabited since the Inca Empire and still maintains much of its original architecture and urban planning.
The archaeological site of Ollantaytambo consists of two main areas: the religious and ceremonial center, which is located on a hillside overlooking the town, and the residential and agricultural areas, which are situated in the valley below. The ceremonial center features a series of impressive stone terraces, which the Inca Emperor Pachacuti built in the 15th century. At the top of these terraces lies the Sun Temple, made from massive stone blocks. The site also includes various other structures, such as storehouses, baths, and a ceremonial platform.
Ollantaytambo was listed among the World's Greatest Places to visit this 2023 by TIME magazine.
Machu Picchu (Lost Inca City):
Machu Picchu is an ancient Incan citadel located in the Andes Mountains of Peru, South America. It was built in the mid-15th century, during the reign of Incan Emperor Pachacuti. The site is situated at an altitude of about 2,430 meters (7,970 feet) above sea level, and it overlooks the lush Urubamba River valley.
The name "Machu Picchu" translates to "Old Mountain" in the native Quechua language. The complex consists of more than 200 buildings, including temples, houses, and agricultural terraces. It is a marvel of engineering and architecture, with many structures made from dry stone walls that fit together without the use of mortar. The Incas built the site to maximize the use of the natural landscape and its features.
Machu Picchu remained hidden from the outside world until its rediscovery by American explorer Hiram Bingham in 1911. Today, it is a UNESCO World Heritage Site and a popular tourist destination, attracting hundreds of thousands of visitors each year. It is considered one of the most iconic archaeological sites in the world and serves as a testament to the ingenuity and sophistication of the Inca civilization.
Due to the site's popularity, there have been concerns about environmental impacts and damage to the structures. As a result, the Peruvian government has implemented various measures to preserve the site, such as limiting the number of daily visitors and requiring tourists to follow specific routes while exploring the complex.
Sacred Valley to Machu Picchu Tour Frequently Asked Questions
How long is the Sacred Valley to Machu Picchu tour?
This tour takes 2 days and 1 night, with one day dedicated to exploring the Sacred Valley and another day to visiting Machu Picchu.
What is included in the tour package?
The tour package usually includes transportation to and from your hotel, entrance fees to the attractions, a bilingual guide, meals during the Sacred Valley tour, and accommodation.
How do I get to the Sacred Valley from Cusco?
The Sacred Valley is located about 50 km (31 miles) northeast of Cusco. You can get there by bus or taxi, but the easiest and most convenient way is to take a guided tour that includes transportation.
How do I get to Machu Picchu from the Sacred Valley?
From Cusco, you will travel in a private van until Ollantaytambo, visiting several Inca sites and local markets. From Ollantaytambo, you will take a 1.5 hours train to Aguas Calientes, where you will spend the nights in a hotel.
On the second day, you will board the bus to Machu Picchu and explore the citadel.
Do I need to be in good physical shape to visit Machu Picchu?
While Machu Picchu can be physically demanding, you do not need to be in top shape to visit. However, the tour involves walking, so being in good enough physical condition to handle these activities is recommended.
When is the best time to take the tour?
The best time depends on your travel preferences and schedule. However, the dry season (April to October) is generally considered the best time to visit Machu Picchu and the Sacred Valley, as the weather is sunny and clear. Remember that this is also the peak tourist season, so prices and crowds may be higher.
When is the best time to visit Machu Picchu?
The best time to visit Machu Picchu is during the dry season, which runs from April to October. However, this is also the busiest time of year, so expect larger crowds and higher prices.