Explore the amazing lands of the Incas from Cusco, The Sacred Valley, Machu Picchu, and Rainbow Mountain with an Authentic Local Expert.
Cusco, Sacred Valley, Machu Picchu + Rainbow Mountain 5 days
When most people think of the Inca Empire, they think of Machu Picchu. But there is so much more to this ancient civilization than just one site. From the capital city of Cusco to the Sacred Valley to Rainbow Mountain, countless Inca sites and ruins exist to explore.
Cusco city was the center of the Inca Empire and is now a UNESCO World Heritage Site. This city is home to some of the best-preserved Inca architecture, including the Temple of the Sun and the Sacsayhuaman fortress.
The Sacred Valley was an important agricultural center for the Incas and is now home to many indigenous communities. This valley is also home to some of the most popular Inca sites, such as Ollantaytambo and Pisac.
Machu Picchu Citadel is the most famous Inca site, and for a good reason. This "Lost City of the Incas" is perched high in the Andes Mountains and offers stunning views of the surrounding landscape and ruins.
Rainbow Mountain is a relatively new attraction but has quickly become a tourist must-see. This colorful mountain is one of the most amazing day hikes in Peru.
Tour details:
Duration: 5 Days / 4 nights
Depart in: Cusco
Season: All year round
Destination: Machu Picchu, Rainbow Mountain
Type: Cultural, adventure, hotel
Highlights:
Discover Cusco and the Sacred Valley
Explore the best of Machu Picchu
Amaze by the views of rainbow Mountain
Travel in small groups
Itinerary at a Glance:
Day 1: Arrival at Cusco airport - Afternoon city tour
Day 2: Sacred Valley full-day tour with Maras Moray
Day 3: Machu Picchu guided tour - return to Cusco
Day 4: Rainbow Mountain and Red Valley hike
Day 5: Depart Cusco
Included
Airport Transfers
4 hotel nights ( 3 stars hotel)
Cusco city tour
Sacred Valley tour with Maras Moray
Machu Picchu tour
Rainbow Mountain & Red Valley tour
Entrance tickets for all places we visit
All Transportation included during the 5 days
Round trip bus to Machu Picchu
One-way Expedition Train
One-way Panoramic Vistadome Train
Professional Tour guide
All taxes and booking fees included
Not Included
Meals not mentioned
Huayna Picchu Mountain
Machu Picchu Montaña
Travel Insurance
Tips
Important information
Available every day with minimum 2 people
Tour fully customizable on request
The giving times are approximate
Upgrades possible ( hotel, Train, private tour)
Booking and cancellation policy
To book, you need an initial payment of 200.USD per person
Initial payment is non-refundable and non-transferable.
Cancellation within 48 hours or less; 90% of the total price is due
The trip can be canceled due to force majeure

Full itinerary of Cusco, Sacred Valley, Machu Picchu + Rainbow Mountain 5 days
Day 1: Cusco Arrival - City tour Cusco
Our staff will pick you up from the airport upon arrival and drive to your centrally located hotel in Cusco. At 1.00 pm, we will begin our Cusco city tour in the afternoon, visiting wonderful places such as Plaza de Armas, important streets, Koricancha, Sacsayhuaman, Qenqo, Puca Pucara, Tambomachay, and the Statue of Jesus Christ to have the best view of Cusco city. Drop off at the hotel.
3 stars hotel included
Transportation
Tour guide and entry fees included
Day 2: Cusco - Sacred Valley
We begin our day with a delicious breakfast at your hotel. At 7.30 am, you will pick up by our transportation and head to the amazing Sacred Valley, where you will discover the principal attractive places such as the Mirador Taray, Pisac ruins, Pisac Market, lunch in Urubamba, the terraces of Moray, the Salienras of Maras, and the town of Ollantaytambo.
You will have dinner in Ollantaytambo, board the Expedition train to Aguas Calientes town (Machu Picchu Pueblo), and spend the night in a hotel.
3 stars hotel included
Transportation, Tour guide, and entry fees included
Breakfast - Buffet lunch at the Sacred Valley tour
Day 3: Machu Picchu - Cusco
And here we are, the cherry on top of the cake. On our fabulous trip to the New Wonder of the World, Machu Picchu. Our day starts with an early breakfast in the hotel and taking the bus to Machu Picchu, where our guide will show you the history, culture, customs, and most important details of this amazing site.
Finishing with our tour, our friendly guide will assist you to the train station, where you will have a wonderful trip on the Vistadome train that will transport you to the town of Ollantaytambo and later by private transportation to your hotel in Cusco.
Bus from Machu Picchu
Machupicchu entrance tickets
3-star hotel
Breakfast in hotel
Machu Picchu tour
Panoramic Trains to return (Vistadome or Voyager 360°)
Day 4: Rainbow Mountain and Red Valley
Our trip begins at 4.30 am in Cusco, and we drive for an average of 3 hours to the trailhead. At our first stop, you will relish a delicious picnic breakfast with the mountains in front of you and start a 2 hours hike to the top of the Amazing Rainbow Mountain and also hike to Red Valley. Rainbow Mountain has become one of the most famous day hikes; we have hundreds of visitors daily. After your visit, we will return to your hotel in Cusco, arriving at approximately 6 pm.
3 stars hotel included
Transportation, Tour guide, and entry fees included
Picnic Breakfast and Lunch
Day 5: Depart Cusco
Our last day! Our representative will pick you up from your hotel and drive you to Cusco airport.

Cusco Machu Picchu 5 days packing list
During this 5 days package, we will travel from Cusco to Machu Picchu pueblo and return to Cusco after 1 day. You will need to pack according to t the day of the tour and the activities included.
Cusco city tour packing list
On the first day, after airport pick, you will be transferred to your hotel, where you have time to unpack. Later in the afternoon, you will be on a city tour in Cusco; you must have a small backpack to carry the necessary items for the day.
A comfortable pair of shoes: You will be doing a lot of walking on the tour, so it is essential to have comfortable shoes.
A hat or scarf: The sun can be intense in Cusco, so it is good to have a hat or scarf to protect your head and face.
Sunscreen: Again, applying sunscreen before heading out for the day because of the intense sun is essential.
Water bottle: It is essential to stay hydrated, especially at high altitudes. Be sure to bring a water bottle and drink regularly throughout the day.
Snacks: While there will be opportunities to purchase food during the tour, it is always good to have some snacks with you if you get hungry.
Camera: Don't forget your camera! Cusco is a beautiful city, and you will want to capture memories of your time there.
Extra Money: There are shops to buy souvenirs in the places we visit, bring soles
Sacred Valley tour packing list
On the second day, we will pick you up from your hotel in Cusco city and explore the Sacred Valley on a full-day Tour. Later in the afternoon, we will travel by train to Aguas Calientes and spend the night there.
You will need to check out from your hotel in Cusco and store your big luggage at the hotel. For two days, you will travel only with a carry-on or small backpack with all the necessary stuff. Due to train regulations, you cannot travel with a piece of big luggage.
A small backpack or carry-on to carry your essentials for 2 days
A comfortable daypack to visit the sacred Valley, Machu Picchu
Comfortable walking shoes, sandals
Sunscreen, a hat, and sunglasses protect you from the strong Andean sun.
Bug spray, especially if you're visiting during the rainy season.
Layers of clothing, including a jacket or sweater, for cool evenings.
Camera to capture the stunning views!
Toiletries
Extra money
Machu Picchu guided tour packing list
You need to check out and store your carry-on at the hotel, and you will travel to Machu Picchu only with a light and comfortable backpack.
A small backpack to carry your belongings in while you explore.
Original passport to enter Machu Picchu.
Sunscreen and a hat to protect yourself from the harsh sun.
Bug spray to keep the mosquitoes at bay.
Comfortable walking shoes as you will be doing a lot of walking.
A rain jacket in case of rain.
Water and snacks to keep you hydrated and energized during your adventure.
A camera to capture all the fantastic views.
After the Machu Picchu tour, please pick up your bag from the hotel and bring it back to Cusco by train and bus.
Rainbow Mountain and Red Valley tour packing list
Today, you don't need to check out from the hotel, as you will return to the same hotel after the tour.
When packing for a Rainbow Mountain and Red Valley tour, it's important to pack light and be prepared for all weather conditions.
A small backpack or daypack
War jacket, gloves, scarf
Rain jacket or poncho
Sunscreen and a hat-sunglasses
Comfortable walking shoes
Snacks and water
A camera!
Price for the Cusco, Machu Picchu + Rainbow Mountain 5 days
Price per person:
990.USD for adults
950.USD for children and students
To book the Short Inca Trail + Rainbow Mountain tour, you need to make an initial payment of 400.USD per person, the remaining balance can be paid online, in installments, or Cusco with any credit card or PayPal with no booking fees at all.
Student Discount:
All travelers under 17 will have a $40 discount.
If you are 25 years old or under when traveling, you can get a 40$ discount with your student ID. Please advise by email to give you a code for the discount.
Valid Student ID
To get the student discount, travelers should have a Valid ID with the following:
25 years or less at the time of entering Machu Picchu. Older than 25 can not enter as a student
The ID must have the Name of the university, name, and photo of the student
The ID must have a valid expiration date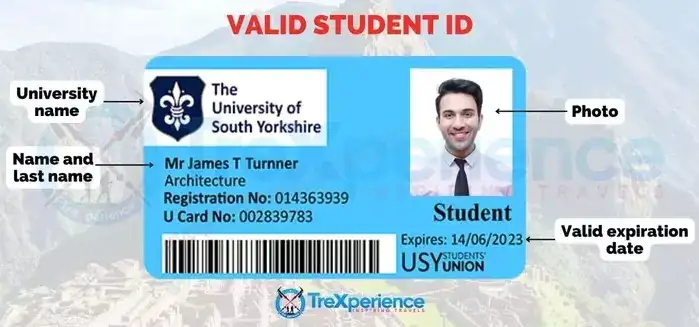 Invalid Student IDs
Student IDs are not eligible for a discount when:
Traveler is older than 25
Expired ID
Student Id without expiration date
ISIC cards are not valid.

---
Similar tours you might be interested
Cusco, Sacred Valley, Machu Picchu + Rainbow Mountain 5 Days FAQs
Machu Picchu is a popular destination for travelers and adventurers worldwide, and with good reason. From its history to its natural beauty, there's no denying that it's an incredibly special place.
What is the best time of year to visit Machu Picchu?
The best time to visit Machu Picchu is during the dry season, which runs from April to October. The weather is generally sunny and dry during this time, making it ideal for exploring the ancient site. However, Machu Picchu can be crowded during the dry season, so if you want to avoid crowds, you may consider visiting during the wet season (November-March). While the weather is more unpredictable during this time, you'll likely have a better chance of getting tickets to enter the site.
What is the best time of year to visit Rainbow Mountain?
The best time to visit Rainbow Mountain is the dry season. The weather is warm, and the days are long, making it the perfect time to explore all the mountain offers. There are a variety of activities to enjoy, from hiking and biking to fishing and camping. And, of course, the views are simply stunning. If you can swing it, plan your trip for early July or August when the wildflowers bloom, and the beauty of Rainbow Mountain is at its peak.
What can you see in Cusco city?
Cusco city is home to a variety of different sights and attractions. From ancient Inca ruins to Spanish colonial architecture, there is something for everyone to see in Cusco. Cusco's most popular tourist attractions include the Sacsayhuaman fortress, the Qorikancha temple, and the Plaza de Armas square.
What can you see during the Sacred Valley tour?
The Sacred Valley is home to some of Peru's most incredible Inca ruins. From the famous site of Machu Picchu to the lesser-known but still stunning sites of Pisac, Moray, Salineras of maras, and Ollantaytambo, there is much to see in this beautiful valley. In addition to the ruins, the Sacred Valley is also home to many traditional villages where you can learn about the local culture and see some amazing traditional artisans at work.
What can you see in Machu Picchu Citadel?
There is a lot to see in Machu Picchu! The ancient Inca site is full of interesting ruins, stunning scenery, and plenty of photo opportunities. Here are some of the things you can see in Machu Picchu:
The ruins of the ancient Inca city, including temples, palaces, and houses
The magnificent views of the Andes mountains and the valley below
The famous Intihuatana Stone, a carved stone that the Incas used for astronomical purposes
Some of the many llamas that live in Machu Picchu
The beautiful Condor Temple, a ceremonial site that the Incas built
The stunning sunrise over Machu Picchu
How do I get to Machu Picchu?
The best way to get to Machu Picchu is by taking the train from Cusco or Ollantaytambo. The journey takes about 1.5 hours, and there are several trains per day. You can also take a bus + hike from Cusco, but the journey is much longer (about 8 hours), and the roads are very winding.
What are the hours of operation for Machu Picchu?
Machu Picchu is open every day from 6 am to 5 pm. The site generally gets busiest between 10 am and 2 pm, so if you want to avoid the crowds, aim to arrive early or later in the day.
Can I take pictures at Machu Picchu?
Yes, you can take pictures at Machu Picchu. There are many beautiful spots to take photos of the ruins and the landscape. However, please be respectful of the site and do not use flash photography or climb on the ruins.
Can I customize the Machu Picchu tours?
Yes, you can! Just let your travel agent know what you have in mind, and they will work with our local team to make it happen. Some things may not be possible (like adding an extra day), but we will always do our best to accommodate your requests.
Is it possible to choose a different hotel?
Yes, it is possible to choose a different hotel. There are many hotels in Cusco and Machu Picchu pueblo, and they vary in price, amenities, and location.
Is this a private or group tour?
You can choose between a private or small group tour.
A private tour will allow you to customize your itinerary to match your specific interests and needs. You'll also have the undivided attention of your tour guide, which can be especially beneficial if you have questions about the site or want to learn more about the Inca history and culture. Private tours are typically more expensive than group tours, but they offer a more intimate and personalized experience.
Group tours are great for meeting other travelers and exploring the site with fellow enthusiasts. These tours typically follow a set itinerary, but your tour guide will be happy to answer any questions. Group tours are typically less expensive than private tours, but they may not offer as much flexibility in customizing your itinerary.